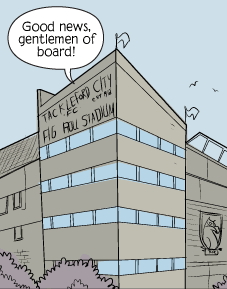 The Tackleford City FC (Football Club, playing what the Americans would refer to as "soccer", but what do Americans know about it?) is a team with a rich, century-long history in the city of Tackleford. It has many avid fans, including Darren Wickle, whose Tackleford City FC posters were faithfully preserved by his mum on the wall of his room during his time in prison. Jack Finch collects football trading cards, but isn't so into actually attending matches (despite winning lifetime season tickets along with the rest of the Mystery Kids; Linton Baxter was the only one who actually was excited at this).
Some news articles of the club's history can be found in the bonus material at the end of the "Case of the Team Spirit" Bad Machinery graphic novel in its (paper or Kindle) book version. Another article appeared in 2005, and a headline from 1960 in a later story.
Industrialist Hamilton Percy seems to be an official sponsor of this team, given that his name is written on Tackleford FC merchandise, like e.g. sweaters. He is also one of the board members.
The club played its first match on October 4, 1912 after the town by-laws were changed to permit the sport. No pitch had been built, so it was played on a two-mile stretch of Main Street, ending in a 5-5 tie against Pendlebury & Rasmond Colliery.
By July 1915, they finally had an actual pitch, Wasp's Nest, after a number of matches played on marshland.
In 1924, Tackleford player Sanjay Rhamaswami led a 2-0 victory over then-dominant Sunderland by levitating, teleporting, and shooting an eerie green ray from an emerald.
In 1960, the players went on strike and were termed "privileged popinjays" by the chairman.
In 1994, midfielder Carl Patterson made the pop charts with a single, "Baby, I Think I'm In Love With You", which, due to complex rules governing football league promotion, actually assisted Tackleford City FC in gaining a position in a higher league.
In 2005, the club (then playing in Pepperami Stadium) lost a 4-1 match to Chepchestershire, which featured the opposing team's midfielder Ngatu Walpole using witch-doctor "bad juju touch" to stop the heart of Tackleford forward Des Blake.
In 2007, Russian businessman Yuri Kropotkin purchased the team (then ailing financially) for 1 pound, and proceeded to build a new stadium for it. A series of unfortunate incidents followed, in which a malicious spirit played a role, but Yuri's wife played an even larger, more malignant role.
Community content is available under
CC-BY-SA
unless otherwise noted.