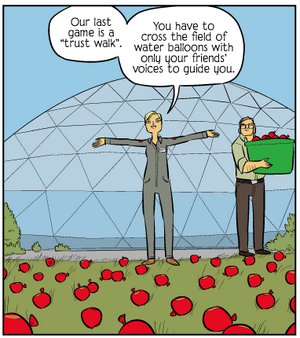 SpaceUK is a space-related enterprise located in Nefyn, Wales which is a division of Zambian Computing. It is located at a former holiday camp site, and has a geodescic dome. The former owner of the site (Gethin Pugh) got wealthy by selling it for this use, and now spends much of his time drunk at the pub of the local hotel. Other locals are skeptical of the benefits of this enterprise to the local economy. A few (notably Emlyn and David, the latter of whom runs a store in town named Lipton's) have wild conspiracy theories about what is really going on at that place, which turn out to have a great deal of truth to them when it's revealed that its owner is consorting with extraterrestrials (until the alien is killed).
A youth space camp is run there by Zambian founder Ben Bishop with staff Hilken Strom and Roland George. Admission was selective, based on an essay contest, and the current attendees are Shauna Wickle, Charlotte Grote, Tuan Hoang, Jordan P., and Alex S.
Community content is available under
CC-BY-SA
unless otherwise noted.