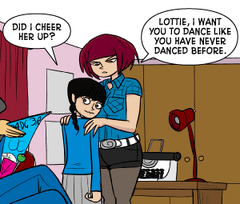 Sarah Grote was a student of Griswald's Grammar School alongside Esther DeGroot, Erin Winters, and "The Boy" Eustace Boyce. She was the first Tackleford resident to encounter "The Child" (no relation to The Boy; also known as Poh) when he was sent into town to proclaim a message that "Things are going to change".[1] This was reported in the Tackleford Cormorant[2], giving her age as 17 in January 2005 (though she did not finish secondary school and go to university until 2009[3]). Along with Esther, Sarah published a fanzine entitled Guns for Eyes, produced on an old-fashioned typewriter instead of a computer for authenticity. On going to university, she passed on the fanzine equipment to her younger sister Charlotte Grote (Lottie), who used it to produce a school project in "zine" format later on. Sarah has grown up and moved out, but still visits the old family home occasionally, and gets along very well with her little sister.
Despite an age difference, she briefly dated Ryan Beckwith, while she was still in secondary school and Ryan was an adult. They parted ways again shortly after Sarah had finished school.[4]
Later she was a romantic item with Eustace "The Boy" Boyce, soon after he broke up with Esther. This relationship ended under as of yet unknown circumstances.
In The Case of the Unwelcome Visitor, Sarah was dating a man named Dr Julian (whose hairstyle made him look somewhat similar to Eustace, by the way), while at the same time her mother Karen Grote was dating a guy named Colin.[5] But both relationships came to an end [6]after Lottie found out that Colin was a mysterious vigilante named the Night Hero. He shared this role with Julian, so they both had to leave town after that.[7]
Community content is available under
CC-BY-SA
unless otherwise noted.