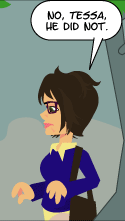 Rachel Dukakis-Monteforte (the heiress to the Dukakis-Monteforte Biscuit Dynasty [1]) appeared first [1] in Bobbins as a barmaid at The Ragged Stoat in Tackleford, along with her close friend Tessa Davies. Both later enrolled as students at the University of Tackleford; Rachel studied journalism under Professor Len Pickering. There, at the professor's urging (after her academic performance had slipped to the extent of endangering her future as a student) Rachel revived the long-dormant student newspaper of the university[2] (in the process solving the mystery of what became of its former staff).
Shortly after, the bar is destroyed and the two take a job as Interior Decorators for Len Pickering.  Before they could be paid for the job, Amy Chilton went missing and was thought to have been murdered by her father.  In order to clear his name and get their money, Rachel and Tessa enter an alternate dimension where Amy had been kidnapped and is now a celebrity to bring her back.
Later, she manipulated a biker gang into shooting Shelley Winters.[2][3] Eventually the gang found out that they had been tricked, and punished Rachel by tossing her off a bridge.[4] That would have meant certain death for her, but Rachel managed to avoid that fate by selling her soul to the Devil.[5] Due to the police also being on her heels [6], she and Tessa fled to Wales (where they then managed Space Owl's 2005 election campaign [7]), but later returned to Tackleford as the evil leaders of the Little Sisters of Belial. Rachel was known as Mother Superior while leading the Sisters. Unfortunately, her leadership ended for her in a rather... violently fiery way.[8]
In spite of her apparent death, Rachel reappeared (together with Tessa) years later within Mrs. Terry's secluded street of the forgotten.[9]
Rachel's childhood nemesis [10] was the beetle demon Krakkagar.[11]
At one point, Rachel's basement had a passage leading to Constantinople, which was buried under Istanbul (which was actually a spaceship that landed on top of the older city).
Giant Days #16 revealed that the Dukakis-Monteforte Biscuit Works have their (or at least one) factory in Sheffield, the town of the university attended by Esther de Groot, Daisy Wooton and Susan Ptolemy. Their elderly neighbor (Clive Burton) once worked there, where he, so he claims in Giant Days #23, introduced the triangular vacuum-sealed sandwich packet to the UK.
Community content is available under
CC-BY-SA
unless otherwise noted.