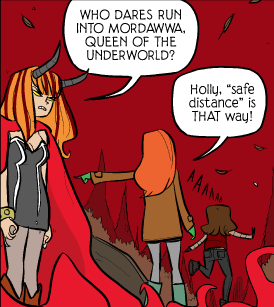 Mordawwa is the title character of what is, within the Tackleford universe, a fictional comic book. She is the queen of Hell (or some similar non-religion-specific underworld). Her comic is one of the "Scary Go Round" line of comics, with a pseudo-retro-Marvel style, described in the house ads and columns included in the Expecting To Fly issues. One sequence of panels from this comic which was shown as a bonus strip had Mordawwa being audited by the cosmic Taxman (part of a line-wide mega-crossover). In-universe, Erin Winters was shown some issues of this comic by her big sister Shelley Winters when Shelley was atoning for rashly telling her little sister to go to Hell; the comic showed Erin that Hell wasn't necessarily such a bad place, at least if you were the ruler of it. Erin took this to heart later when actually consigned to the netherworld, when she managed to put herself in the ruling position and then patterned her persona after the comic character she had read years earlier. Or maybe the comic book writer and artist patterned their character after a supernatural vision of the timeless queen of the underworld that Erin became; you could make a case either way.
When she became Mordawwa, Erin sprouted horns. However, she sawed them off later while mourning for her friend in Hell, a dragon known as The Sheriff, after he got shot (but they did not shoot the deputy). The Sheriff later came back to life (or afterlife as the case may be in Hell), and Mordawwa put on headgear with built-in horns to replace her real missing ones.
A Mordawwa comic series started February 22, 2016, accompanied by a handy guide to the history of the character. It was then printed as a paper comic and withdrawn from the web, though she was subsequently noted as "canceled" and returned to Earth as a mortal human along with human-turned-horse-turned-human Eustace Boyce.
Community content is available under
CC-BY-SA
unless otherwise noted.