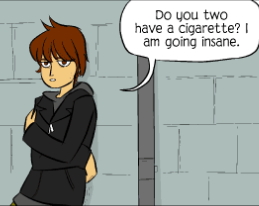 Mimi Broussard is a student of a school in La Rochelle, France, and the younger sister of Elodie Broussard.
Mimi's first appearance was in Scary Go Round, when Eustace Boyce arrived in her home town, in the context of the La Rochelle/Tackleford student exchange program. She tricked him into thinking that she was her older sister Elodie, a prank Mimi was able to pull off due to her similarity to Elodie at the same age, when Elodie had first met Eustace in Tackleford.[3] Elodie and Mimi even shared the same Smurf obsession.[4]
During that time, Mimi was still the best friend of Camille Duplass. This changed when Camille told her the secret of her six nipples, which Mimi couldn't keep to herself. This caused Camille to become the laughing stock of the school. It got so bad that Camille had to leave the school, and when she and Mimi met again at the start of collége, Camille executed bitter revenge by telling lies and rumors that turned Mimi into a social outcast.[5]
In the Bad Machinery story The Case Of The Modern Men, Mimi visited Tackleford as an exchange student herself. After having some starting problems, and then adventures, she eventually became good friends with Charlotte Grote (even giving Lottie her leather jacket as a parting gift) [6], and also developed a romantic relationship to Jack Finch.[7] Even Camille seemed to start threading her more friendly again in the end [8], which was no doubt due to the clearly phrased words of encouragement given by Claire Little.[9]
Community content is available under
CC-BY-SA
unless otherwise noted.