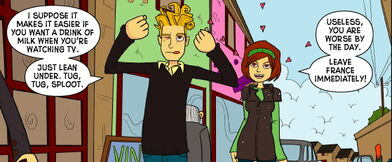 La Rochelle is a town in France, and the twin town of Tackleford.[2] Griswald's Grammar School and a school in La Rochelle are maintaining a student exchange program.
Mimi Broussard, a citizen of this town, once quite unflatteringly described it as "a dumb" (which caused some displeasure among her class mates), but also lauded the "well maintained road out of town".[3]
La Rochelle may be meant to be the real French city of the same name (both are port towns [4], [5]), but that isn't 100% certain.
Known citizens of La Rochelle:
Edit
Natalie Durand [6], former girlfriend of Ryan Beckwith.
Jean Choux-Fleur, had a crush on Natalie [7], but was seen by her only as "ze local simpleton".[8]
Elodie Broussard, her younger sister Mimi Broussard, and their parents.
Camille Duplass, Mimi's friend-turned-archenemy.[9]
Camille's posse, of which one girl is named Hélène.
Community content is available under
CC-BY-SA
unless otherwise noted.