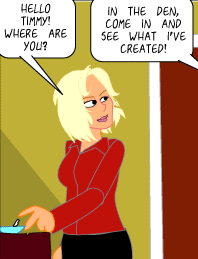 Illeanna Godmundsdottir was Tim Jones' girlfriend, and later Rich Tweedy's wife. She came from Iceland.
Tim first noticed her in the grocery store, and stalked her for a while with the help of Rich. Later, Fallon Young provided a detailed plan for winning her over (he hadn't yet talked to her or learned her name at this point). Rather than follow any devious, convoluted plan, Tim eventually just walks up to her and asks her out, which, to his dazzling surprise, succeeds. At the time, she works for Must Be Records on Owl Street, and manages to find a Steely Dan limited edition album with poster for Tim. While she finds some of Tim's ideas a little nutty, she still keeps dating him, perhaps just to get him to take her to restaurants and spend money.
As their relationship continues, it becomes Illeanna's turn to sound a little nutty when she recounts various details of life in Iceland, such as its being led by a giant Eskimo named Keith. Tim isn't sure how much to believe of it, though some of it is borne out when the two make a trip to Iceland over the Christmas holidays.
In Iceland, Tim met some of Illeanna's family, her father Einar and her mother Katti, and sisters Gulla, Inga, Karo, Loa, Sola, and Hrefna. Her father confides that he was really trying for a boy when he had seven daughters instead, and when Tim suggested he offer at the hospital to swap a girl for a boy he said he tried that too.
Returning from Iceland, Tim observes Rich's difficulty in romance, and determines to do something about it. This eventually leads indirectly to the downfall of his relationship with Illeanna, because it prompts him to build Unit Daisy, a robot woman designed to be a mate for Rich, but when she doesn't hit it off with him, she ends up romancing Tim instead, which then leads Illeanna to leave. Soon Tim loses his robot girlfriend too, as a big red robot fights him for her. Meanwhile, Illeanna becomes romantically involved with Rich, straining the two men's friendship once this becomes known.
Sometime in the period after Rich was "fired so hard he ceased to exist" (he apparently still existed, but it was an unchronicled existence not shown in any comic strip), he married Illeanna, but by the time he showed up again in the "Into The Woods" storyline (as an eco-terrorist), they were no longer married; she was referred to as an "ex-wife".
Community content is available under
CC-BY-SA
unless otherwise noted.