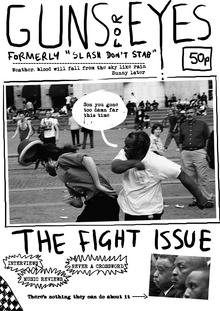 Guns For Eyes (formerly "Slash Don't Stab") was a fanzine produced by Sarah Grote and Esther de Groot, with music reviews by Shelley Winters (writing as "Dr Lady Sounds"). It was produced on an old-fashioned typewriter instead of with computers and desktop publishing software for a classic style of authenticity. After Sarah and Esther went to university, Sarah gave the typewriter to her little sister Charlotte Grote, who later used it to do a school project fanzine-style.[1]
The fanzine had a cover price of 50p, and covered Griswald's Grammar School matters such as the fight between Carrot Scruggs and Gary Parsons.
It is unknown how many issues were produced, but one was shown in the strip in 2008:
Page 1: [2]
Page 2: [3]
Page 3: [4]
Page 4: [5]
Community content is available under
CC-BY-SA
unless otherwise noted.