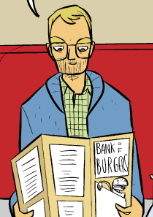 Glenn Hughes is the birth father of Shauna Wickle. Not much is known about him. Though when Shauna met him for the first time, she got the impression that he is a "standard nerd" She later also discovered that he has a wife and a son.
Glenn met Shauna's mother Ella when he started a programming job, while she was a cleaner at the same place.[1] Their relationship ended when he left her after he got a job in the south. Shauna was 2 at this time, and so she had no memory of him[2].
According to Ella, Shauna's intelligence comes from him, and he keeps up with child support[3].
References
Edit