We're Getting Mutants in the MCU - The Loop
Play Sound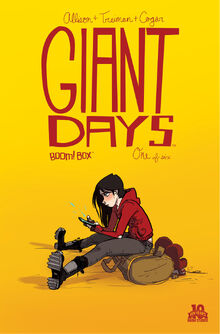 Giant Days is an ongoing, Eisner award winning comic book series published by Boom! Studios, covering the college careers of Esther de Groot, Susan Ptolemy, and Daisy Wooton, originally planned as a six-issue miniseries.
Prior to the Boom! Studios series, John Allison self-published three issues in a smaller format which take place immediately prior to the start of the current series.
The comics have been illustrated by many illustrators, such as Lissa Tremain and Max Sarin, as well as Allison himself illustrating a few special edition comic curatings.
There are 54 issues in the series so far, plus 3 webcomics and 4 special edition Issues. The Series focuses on the events in the life of Esther deGroot and her two unlikely friends, Susan Ptolemy and Daisy Wooton, at the University of Sheffield.
Esther is a mysterious goth with a love for partying, boxing and hooking up with unsuitable men. She has a reputation for being irresponsible and very beautiful. She is studying English Literature. Many times, she finds it very difficult to get a job. She has had jobs at pet shops, comic stores, and bakeries.
Daisy is shy and homeschooled by her granny until university. She is very responsible and gets great grades in all of her subjects. She is bisexual and is obsessed with a singer called Enya. She is revealed to be studying nothing other than Archaeology, where she has many Interesting adventures.
Susan is a temperamental and crude smoker who has an on-off relationship with a handyman named Graham, whose name is McGraw. She is a medical student. She gets decent grades, and she also has a part-time "job" as a private investigator and detective, for which she does not get paid.
Written by Kira Corrigan