Christmas Island (Kiritimati) is an island in the South Pacific, and the home of Santa Claus.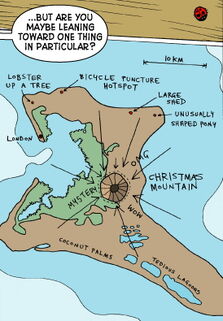 When the Conde Nast Traveler magazine planned to send someone to the Island in order to write a travel report, a young journalist named Shelby Winner was chosen for the job. But due to a clerical error, Shelley Winters was send there instead. After this error was discovered, Shelby nevertheless traveled to Christmas Island too, with the intention to "destroy" Shelley. Luckily, the two women became friends before Shelby could carry out her plan, and together they went to explore Christmas Mountain in the center of the island, where they even met Santa Claus himself...
You can learn more about the real world (Christmas Mountain-less and therefore also Santa Claus-less) version of Christmas Island here.
Community content is available under
CC-BY-SA
unless otherwise noted.